Reception Info
Let's Celebrate!
We are so happy you can join us! Here's a little overview of what you can expect:
Our reception will be cocktail party style - we will be serving a series of passed canapés and appetizers as well as stationed food platters at the beginning of the event. There will be a dessert station closer to the midpoint of the evening and late night snacks served. The entire menu will be nut-free and we will also have a variety of vegan, vegetarian, and gluten-free options.
We are pleased to provide a limited host-bar for our guests! This means we have pre-paid for a specific amount of house wine, beer, mixed drinks, and cocktails for you. Once we reach that limit, guests will be able to purchase more drinks on their own tab. Non-alcohol drinks such as pop and juice will be on our tab all evening.
We are looking forward to our guests participating in the evening's entertainment - Karaoke! Whether you choose to sing, dance, or provide encouragement for those on stage, we promise it will be a fun time for all. Check out the 'Song List' section of this website for a selection of our favourite tunes and some inspiration.
Our timeline looks a little like this:
7:30pm reception begins! passed | bar open | canapés passed | platters
8:30pm welcome and speeches
9:30pm dessert station opens | karaoke begins
11:00pm late night snacks
1:00am bar close
2:00am event ends
Can't wait to celebrate with you!
Share Your Photos!
Use The Guest App
No hashtags required! Download the app to share your photos and videos with us automatically during the event. Or, access the desktop uploader to send us photos from your computer after the event.
For mobile phone users download the app using THIS LINK and your photos and videos of the event will be shared with us all in one place!
How does The Guest's automatic photo sharing work?
Once you download the app, you'll be notified when the wedding is starting and that photos and videos will now be shared. Use your normal iPhone or Android cameras to take photos and The Guest app will instantly share them with us and the other guests as they're being taken. When the wedding ends, The Guest will turn sharing off! You don't have to do anything else!
For desktop users, you can upload your photos after the event through THIS LINK
Wedding Venue
2nd Floor Events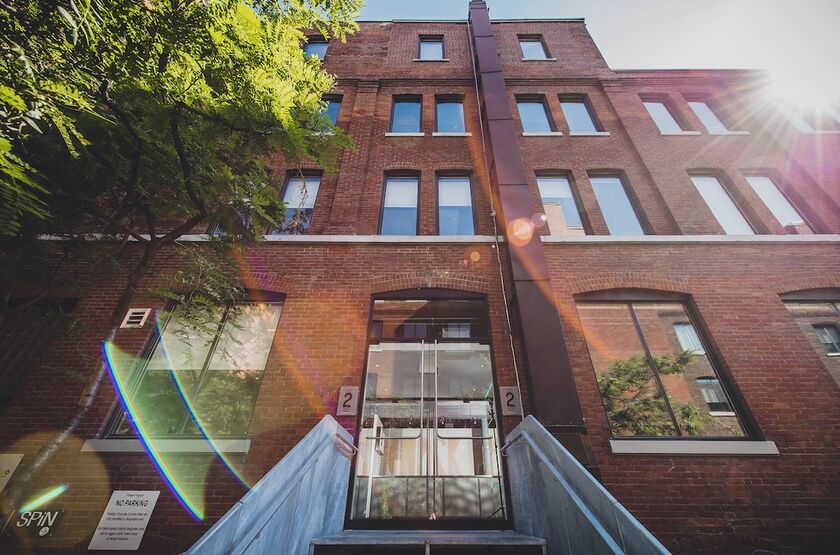 461 King St W, Toronto, ON M5V 1K4, Canada

The heritage building at 461 King Street West has seen many transformations throughout the years. Located in the heart of Toronto's entertainment district, the present-day reincarnation is 2nd Floor Events. Exposed brick and city views offer an urban city feel while maintaining elegance in a modern setting. Outfitted with sophisticated touches, 2nd Floor Events is a chic industrial space perfect for any occasion.